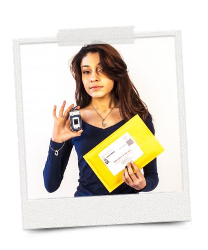 With the holiday gift-giving season approaching, people across the United States are clearing out their old electronics to make way for the latest tech gear for their homes and workplaces. It's the perfect time of year to donate your cell phones to help charity, and we can help you do that.
From November 25, 2014 through January 8, 2015 we are partnering with DoSomething.org in their "Cell Phones For Survivors" campaign.  It is a cell phone recycling effort to raise funds for Safe Horizon, a non-profit organization dedicated to moving victims of domestic violence from crisis to confidence. Safe Horizon is the largest provider of domestic violence services in the United States. They operate both emergency shelters for crisis situations and transitional housing in New York City where families may stay for several months in order to plan for a future free from violence in New York City. The shelters offer comprehensive services including counseling, housing assistance, childcare, and medical aid.
Materials in cell phones can be recycled and resold for a profit. These funds can help domestic violence programs, like Safe Horizon, operate. For every $50 raised through the "Cell Phones for Survivors" campaign, a family will receive bedding for one night in one of Safe Horizon's Shelters. Collect phones in your community to support families fleeing abuse.
Another reason this campaign is so awesome is eligible participants that send DoSomething.org a picture of themselves with the phones they are donating will to be entered to win a $10,000 scholarship! Click here for complete sweepstakes rules.
Ready to help? Great! Just visit DoSomething.org, sign up and get started!